Location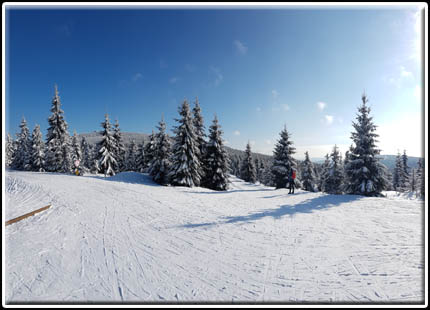 Our three-star hotel is sure to capture the attention of even the accidental tourist. Even its very position is enough to arouse delight, a romantic corner in the upper part of the village, with hills, forests, and the River Kamenice right at the back of the hotel. There is also a downhill slope and ski-tow for beginners and more experienced skiers alike a mere 100 metres from the hotel. The hotel's position right on the crossroads of marked hiking trails offers visitors exceptionally good opportunities to engage in all sorts of active tourism.
Jizera Mountains
The Jizera Mountains are the most northerly of all mountain ranges in the Czech Republic. These mountains stretch between the Krkonoše Mountains and the Lužice Mountains. Indeed the mountain range crosses into Poland to the northeast, which is where we find the highest peak (Wysoka Kopa 1127 metres above sea level). The highest mountain on the Czech side is Smrk (1124 metres above sea level) and a number of other peaks can boast more than 1000 metres in above-sea altitude. The central section of the Jizera Mountains is high ground, in the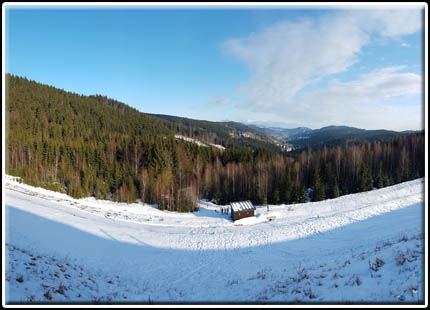 depressions of which peaty mountain meadows and moors appear and from where a number of rivers and streams spring. Meanwhile on the peripheral areas and on the ridges, strangely shaped rock formations, a stone sea, and wild and rocky valleys have been carved out of the granite base through frost weathering. Streams and small rivers cascade through these valleys, whilst waterfalls tumble the great heights from the upland plain to the foothills below. Unique areas of exceptional value
that are home to natural communities have been preserved here to this day. For example, the area is home to the most expansive growth of beech trees in Bohemia and a unique community of open peat moors with glacial flora and fauna. The romantic views and quiet nostalgia of the place attract visitors all year round. It is also in the Jizera Mountains that we can find one of the most attractive cross-country skiing complexes in Bohemia in that the upland plains are interwoven with a network of well-maintained cross-country ski tracks. Along these ski tracks you can pass through villages, ski by mountain chalets, and see some natural rarities without too much effort and exertion. The open plains and another of the Jizera Mountain rarities, its twelve observation points, combine to provide outstanding views of the landscape around. You too can come and sample a few precious moments of joy and comfort right here with us.